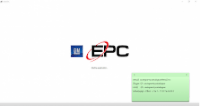 Original factory electronic spare parts catalog  for all General Motors models of South America markets Argentina, Chile, Colombia, Ecuador, Uruguay-Paraguay, Venezuela  from 1953-2017  includes the search by VIN.
with General Motors EPC GMSA (South America) You can search for any of the following:
– Part name/description;
– Part number;
– Illustration number;
– Group number or letter;
– ACDelco number;
– Vendor number;
– Casting number.
General Motors GMSA (South America) Features:
VIN/POC decoding and filtering displays vehicle-specific parts information.
Vehicle and group indexes.
Links between text and illustrations.
Bookmarks enable an easy return to parts information.
Zoom feature for instant access to enlarged images.
Instant access to your in-house inventory system.
Capacity to customize parts data by adding your own notes.
Online help screens minimize new user training time.
Online demonstrations show the most effective usage of major functions.
Print high-quality text and illustrations.
General Motors GMSA (South America) Models Covers :
Buick (1976-2017)
Cadillac (1976-2017)
Chevrolet (1953-2017)
GMC (2007-2019)
Hummer (2003-2010)
Light Truck (1973-2017)
Lt Truck Buick (2004-2017)
Lt Truck Cadillac (1999-2017)
Lt Truck Chevrolet (1982-2017)
Lt Truck GMC (1982-2017)
Lt Truck Oldsmobile (1991-2004)
Lt Truck Pontiac (1994-2009)
Medium Truck (1979-2019)
Oldsmobile (1976-2004)
Pontiac (1981-2010)
OPEL
Region:   (South America)
Languages: English, Hungarian, Dutch, Danish, Spanish, Italian, Chinese, Mexican, German, Norwegian, Polish, Russian, Turkish, French, Czech, Swedish, Japanese
Operating system :
Windows 10 32 bit (x86) – Windows 10 64bit (x64)
Windows 8.1 32 bit (x86) – Windows 8.1 64bit (x64)
Windows 8 32 bit (x86) – Windows 8 64 bit (x64)
Windows 7 32 bit (x86) – Windows 7 64 bit (x64)
Data of update:  [03.2017]
Price : (private message)