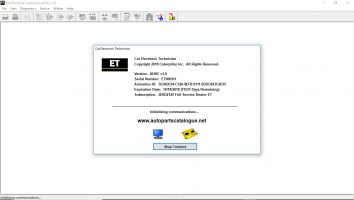 10.2018
Caterpillar Electronic Technician (Cat ET 2018) is diagnostic software required to communicate, diagnose and service electronically controlled Caterpillar engines and machines. When connected to an Electronic Control Module (ECM), a technician has the ability to diagnose existing and potential problems, configure the product, and obtain data for analysis.
This program works with the dealer diagnostic scanner Caterpillar Communication Adapter, as well as other adapters for diagnostics including scanner Nexiq, the program provides the full information when troubleshooting.
When you pay a program Cat ET 2018C once you get detailed and clear instructions on how to activate it. But if you have difficulties or questions concerning the installation, we are helping you to activate the software remotely via TeamViewer free of charge, without any additional fees.
What's New – 2018C
——————————————————————————–
CEOS Fleet Configuration File
A CEOS (Customer Electronic Option Selection) Fleet Configuration File can be created/modified for an engine using the Service Tool. This is available in connected and disconnected mode.
What's New – 2018A
——————————————————————————–
Trainer Update – 988K XE Wheel Loader
——————————————————————————–
What's New – 2017C
Preferences Option to Save a Product Status Report to PDF
What's New – 2017B
Product Status Report Updates
Winflash Screen Update
• Displays parameter status
• Displays active diagnostics
• Clear and View logged diagnostics
• Performs Diagnostic tests
• Print reports and diagnostic results
• Perform calibrations
• Displays current totals information i.e. fuel consumption, operating hours, etc.
• Uploads new software (Flash Files) to ECM's
• Integration to hep files
• Creates engine warranty reports
Region: All regions
Languages: English, Chinese, Danish, French, German, Italian, Portuguese, Spanish
OS : Windows 10 32 bit (x86) – Windows 10 64bit (x64)
Windows 8.1 32 bit (x86) – Windows 8.1 64bit (x64)
Windows 8 32 bit (x86) – Windows 8 64 bit (x64)
Windows 7 32 bit (x86) – Windows 7 64 bit (x64)
Download size 479 MB
Date of update: 10.2018