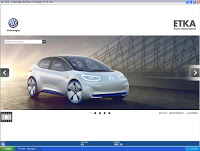 05.2019
spare parts catalog for VAG vehicles  AUDI, Volkswagen, Skoda, Seat. covers all regions, Brazil, China, Local Market, Mexico, South Africa, USA.
Search by VIN / chassis: Yes (number of VIN,s more 1,4 million)
Prices: Yes (latest prices can be updated online for any country)
Region:   All regions
Languages: English, US English, German, Swedish, Turkish, Croatian, Slovenian, Czech, Danish, Hungarian, Japanese, Portuguese, Polish, Chinese, French, Russian, Dutch, Spanish, Italian.
OS : Windows 10, 8.1 , 8 , 7 64 bit (x64) &  32 bit (x86)
Download size 12.6 GB
Date of update:  05.2019
Price : (private message)