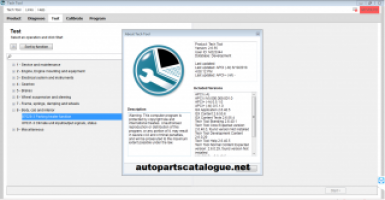 Volvo Tech Tool PTT 2.6.75 is a tool that supports the process of repair and diagnostics. It has been developed for repair work easier and more efficient. Volvo Tech Tool PTT 2.6.75 can be used in the repair shop, in the field, on the road or during testing.
Volvo Tech Tool PTT 2.6.75 you can diagnose, test, calibrate and program a product. A product may be a vehicle engine or machine. Tech Tool also provides functions to update the tool, communication with the product and other external applications. The set of plugs, user authorization and languages ​​is adjustable to provide each user with what you need.
The basic workflow in tool technology is the same for all products:
Identify a product.
History information
Diagnoses a selected product.
Try a selected item.
Program a selected item.
Calibrate a selected product.
Electrical systems and compatible brands:
Volvo Trucks (the older system, the vehicle \ '98, VERSION 2, version Parameter programming)
Volvo Truck (Version 4-FH4 / FM4);
Volvo buses (conventional multiplexed v2 v3 Parameter programming)
Volvo construction equipment (VERSION 2 … version 3 Parameter programming)
Volvo Penta (Version 2 … version 3)
Volvo OEM client component (VERSION 2 … version 3 Parameter programming)
Trucks MAC (V-MAC I / II / III, ITC, IV, IV +Parameter programming)
Renault Trucks (VERSION 2 … version 3 … Version 4 Parameter programming)
UD Trucks (VERSION 2 version 3 Parameter programming)
Volvo  Tech Tool – Version 2.6.75 Software Notice:
1. Note: Tech Tool does NOT support Windows XP and Windows Home Edition.
2 install and activation Volvo Tech Tool (PTT) 2.6.75 only by TeamViewer
SYSTEM REQUIREMENTS In the charts below you will find the minimum and recommended hardware and software  requirements.
Download size :   8.1 GB
Date of update: 09/2018